Our services extend to Families, Funeral Homes and Business Leaders and Sponsors.
Our service is directed to families who have suffered the loss of a loved one. It is designed to provide these families with the sincere and necessary feelings of comfort, consolation and hope during the most difficult time in their lives. Its uplifting message leaves a positive and indelible impression on the families.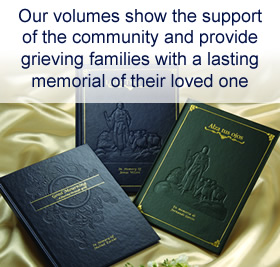 Our service affords funeral directors an Aftercare program for the families they serve. The service can be administered entirely by the funeral home, if they have an established Aftercare staff in place, or it can be administered by Contemporary Concepts with minimal involvement from the funeral home. View more information for Name Sources.
Business Leaders/Sponsors
The service affords select business leaders an opportunity to recognize each family in their community when death occurs. The businesses are not involved in any of the details; everything is handled through our participating funeral homes. This program provides a beautiful personalized keepsake for the family of the deceased. View our Sponsor Benefits.
"Lift up Thine Eyes is truly a blessing to those of us that have lost a loved one. Since February 2001, we have lost six family members.After losing so many loved ones in a short period of time I had a lot of questions about God's plan (and I still do) but Lift Up Thine Eyes has been exceptionally helpful. Thank you so much."
"We have sent out several copies of Good Mourning already and have received excellent feedback. Good Mourning is a wonderful addition to Contemporary Concepts' (aftercare program) and I am very happy to offer it as part of my service"
"We just renewed our participation in the Lift Up Thine Eyes book. We have been so pleased to see the heart felt response to the book.We received thank you notes from families that are so touched that this book was given in memory of their loved ones."